WHITE GRANITE & NATURAL STONE ADHESIVE
Cement based, single ingredient, elastic adhesive with high performance for glazed tiles, ceramic tiles, granite and marble on cement based surfaces like cement, plaster and cement finish (alum).
Engineered and designed for professional installers, SUPERBOND all-purpose Thin-Set Mortar is Polymer-Modified for an exceptional bond strength for multi surfaces. SUPERBOND 5000 exceeds ANSI standards without requiring any additional additives. SUPERBOND is designed for quick settings even in lower-colder temperatures.
Areas of Application
Strong bonding of glazed tile, ceramic tile, encaustic tile, granite, marble, decorative brick, glass mosaic, natural and artificial stone.
Strong bonding of ceramic coating with low absorbency.
Areas with wet volume like bathroom, kitchen, balcony, terrace, swimming pool and water tank.
Concrete mortar, brick, stucco (with plaster), gypsum board, prefabricated light concrete building material, underfloor heating systems and existing ceramic coated surfaces.
Underfloor heated and industrial floors, all kinds of surfaces that are vulnerable to contraction and thermal movements.
Surfaces with low absorbency where plaster is not desired.
Vertical and horizontal applications at inner and outer spaces of structures.
Waterproofing Membrane, Crack Prevention Membrane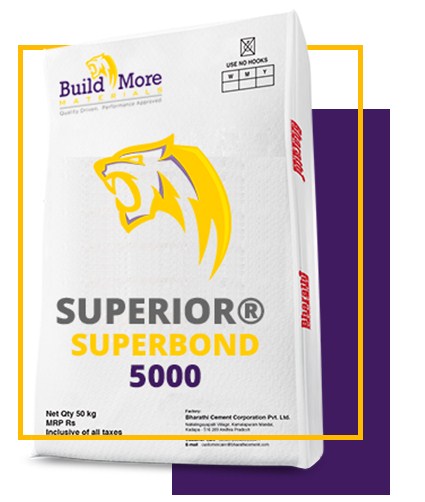 Tile Adhesive Quality
Certificates
C2TE according to TS EN 12004
C2: Cement Based High Performance.
T: Reduced Slipping Property.
E: Reduced Working Duration.
Advantages
Polymer Modified white thinset allows for quicker installations in colder temperatures. Comparable, competitive and cost effective among the other thinset brands. Exceeds ANSI standards.
Due to its high flexibility, can be used readily at outdoor spaces.
Provides very good adhesion on different surface types. (like concrete, cement mortar, natural stone, briquette and existing coating)
Can be applied securely on vertical and horizontal surfaces.
Resistant against water and freezing after it is cured.
Resistant against shock and vibration, provides high adhesion